"Our investment in laser welding equipment has generated new customers for us"
Brogren Industries firmly believes in using lasers in the production of high-tech products for mechanical industries. When the company identified a future need for laser-welded components among its customers, it took the plunge and invested in laser welding equipment from Permanova. Börje Andermård, CEO of Brogren, explains how the investment was a success, helping the company to grow and attracting new customers.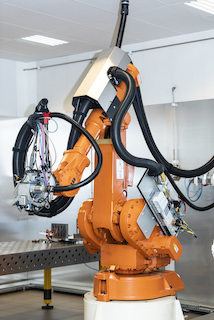 Hi Börje! Tell us a little about Brogren and the business.
Sure! Brogren Industriesis a family-owned company specialising in the mechanical industry. Like many companies, our story started in a garage in the 1960s. Two years after starting the company, founder Lars Brogren took on his first employee and the company has grown ever since. Today there's a team of over a hundred. Together we've seen something of a growth spurt over the last decade. We specialise in processing and welding heat-resistant alloys with tight tolerances and complex geometries. In our three business areas – aerospace, gas turbines, and parts – we work with customers such as Siemens, GKN Aerospace, and Saab.
Great to hear about your success! What sort of equipment requirements do you have?
Common to all our customers is that they have strict expectations of their products in terms of their performance and what they are to achieve. This involves complex products in terms of shape and dimensions, for example, and production often uses challenging materials. In order for us at Brogren to satisfy our customers' needs, we must use high-quality equipment to produce the products our customers want. If our products don't live up to expectations, our customers could incur substantial financial losses. There are no half measures or excuses in what we do, so it's a very demanding industry that we work in.
Why have you chosen to invest in laser welding equipment?
We foresaw a need for laser welding among our customers, and since we strongly believe in this method, we chose to invest in laser welding equipment to be ready when our customers' needs materialised. We can now see that this was a very wise decision.
The goal of the investment was to expand what we offer and grow as a company. This is something that we have truly succeeded in achieving. This investment was pivotal in improving our business. Had we not invested in lasers, I don't think Brogren would look like it does today. Not only have we succeeded in retaining existing customers by catering for their new needs, but we have also received orders from new customers who we would not have been able to assist before. We even have customers who have come to us precisely because we now offer laser welding! In addition to increased business, we can now take overall responsibility and supply a more complete product, which is positive for us and our customers.

That sounds like a good investment. Why did you choose to start working with Permanova?
We have high expectations of our suppliers and pass our own customers' requirements directly to them. In addition to having basic ISO certifications, our suppliers must be able to deliver high levels of performance to meet our technical requirements. We explore their range of products, their service organisation, their stability as a supplier, and their market reputation. We notice relatively quickly if a supplier is knowledgeable and knows what it's doing. Based on these requirements, we feel that Permanova lives up to all our expectations of a reliable and experienced supplier. In addition, Permanova has supplied equipment to our own customers, so we feel confident in the company's ability.

How has your co-operation with Permanova worked out?
We purchased a complete customised laser station from Permanova, which they built from scratch. Permanova is a supplier that has delivered what they said they will deliver spot on. They stand out as they always deliver on time and are professional, which we truly appreciate.
Working with Permanova has gone incredibly smoothly – we have a good relationship and usually call each other now and again to see how things are. Our relationship does not end after delivery, and Permanova remains on hand afterwards, which is both reassuring and a benefit for us. Their service and support are great, which is also crucial for us. In our world, we build deep and long-term relationships, and this is especially the case with Permanova.
Permanova is also very happy with its co-operation with Brogren. Thanks for the chat, Börje!
If you want to find out more about Permanova, how we work, and the solutions we offer, please visit our website or get in touch with me if you have any questions. We look forward to hearing from you! And don't forget to say hello on our social media channels!