Service that ensures the operation of your laser equipment
In order for our customers' laser stations to maintain the highest levels of quality and operate as much as possible, Permanova has established its own service organisation. This enables us to assist with both preventative and emergency maintenance, covering everything from tool servicing to more urgent intervention in both Permanova's laser stations and those of other manufacturers. In addition, regular preventative maintenance can help make any operational issues that do arise easier to rectify.
Which faults, issues, and maintenance needs can Permanova's service organisation look after?
Most laser stations and other laser systems are robust and reliable. That said, there are some things that need to be kept in check, adjusted, and maintained in order to mitigate any issues and quickly resolve any problems that may still arise.
Laser source – clean lenses and clean cooling water
Laser sources contain optics, electronics, and cooling systems that need to be periodically serviced. Preventative maintenance involves making sure that the optics are clean and the electronics free of faults, and replacing the filters and water in the cooling system. If the water gets too dirty, the laser stops working. Dirt and dust on the optics absorb the light from the laser, which then risks burning the surface of the lenses and mirrors.
Software – laser system updates and settings
Although the software rarely fails, it does need to be updated from time to time. The settings may also need to be adjusted, such as when a product is changed. After the updates, we can also check and ensure that the software and communications are working as they should.
Robots – optimise the robot's movements
Robot software may need to be updated in conjunction with product changes or cycle time optimisations, for example. Hoses and cables may get caught or otherwise prevent the robot from working optimally. When changing the production cell, we can evaluate the robot's paths to optimise them and avoid any unnecessary wear on the cables and fibres.
Tool maintenance – preventative maintenance that saves money
After being in operation for some time, laser tools need to undergo preventative maintenance. The servicing intervals vary depending on the tool and application.
Process – make sure that the process parameters are correct
At the heart of a laser station is the process itself, such as hardening or welding. The specific process is based on a number of parameters, such as the power density and robot speed and angle. Even if the station's other equipment is working flawlessly, the process parameters may still need to be adjusted. A typical example of this is when the customer's product has been developed and the parameters need to be optimised in order for the process to continue to meet the customer's requirements.
The risk of wear, damage, or emergency servicing is greatly reduced if the equipment is kept clean and the machines and facility are maintained in accordance with the maintenance instructions.
How does a typical service assignment unfold?
Service assignments generally come into Permanova by phone or e-mail. The case is registered and Permanova tries to solve the issues as quickly as possible, remotely if possible. Depending on the urgency of the issue and the type of problem, we can also provide on-site servicing. In such cases, a service engineer will be dispatched to the customer's premises.
Upon rectification, the customer receives a service report containing a description of what has been done and what may need to be done next. In this way, both Permanova and the customer have a documented history.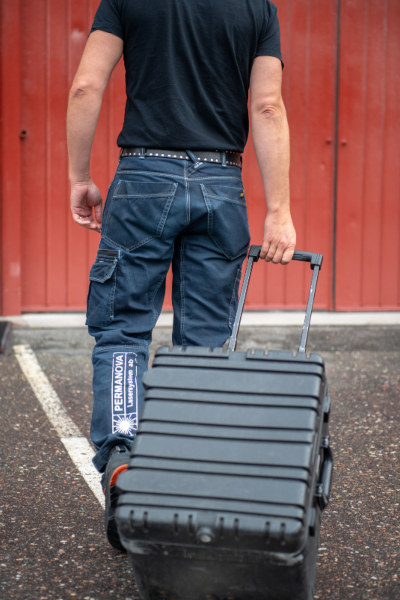 What Permanova's service organisation provides
Although our service agreements (and the scope of those agreements) are adapted according to customer needs, there are four services that are included in our standard offering: station servicing, telephone support, technology meetings, and guaranteed response.
Station servicing
Station servicing is usually carried out once or twice a year at times determined in consultation with the customer. The servicing includes functionality checks and checking of the laser, laser safety, light density, cooling systems, pneumatic components, and optics.
Telephone support
Many issues can be solved quickly and easily over the phone without a physical visit.
Technology meetings
At technology meetings we discuss the facility's function, equipment, processes, spare-part requirements, preventative maintenance, and more. The purpose of the meetings is to understand the customer's ideas and to develop proposals for improvements.
Guaranteed response
Permanova undertakes to provide on-site service within a certain time of receiving a service request from the customer. The timeframe is determined based on the customer's needs and the travel time to the customer's facility.
Servicing can be provided for customers whose laser station needs servicing, regardless of the manufacturer. For tool servicing, we can either collect the tools from the customer and reinstall them, or have them sent to us. Tool maintenance is always done at Permanova's facility in Mölndal.
TG AMT helps our customers on site in China
Shanghai-based TG AMT is Permanova's partner in China. Although they do not manufacture equipment for Permanova, they sell our equipment, install it, and provide servicing and repairs, with the exception of tool servicing, as mentioned above. TG AMT handles shipping, customs, and other administration in relation to the shipment of optics and other tools to us for maintenance.
New technology paves the way for new opportunities for remote servicing
In addition to our telephone support, there are other options for rapid remote servicing. In facilities where we have installed a modem, we can connect remotely and help customers to find and fix errors. Connected laser processes with measurement sensors allow us to measure temperatures, detect dirt and dust, and prevent production problems before they occur. In the future, it is likely that this will become a separate service. Thanks to these measurement methods and connected laser processes, Permanova can help the customer to anticipate and avoid problems.
In addition, we are evaluating the possibility of providing support through virtual reality. Put simply, it would work as follows: Permanova sends a link to the customer's tablet or smartphone. The customer can then film the issue, and using our equipment at the office, the service technician can draw things and point things out, as well as fast-forward and rewind in order to guide the customer.
Our goal is for our service organisation to work closely with the technology and delivery department, not least in connection with construction and installation on site at our customers' facilities. This helps to ensure that our service staff are familiar with the facilities we supply. If you have any questions about our servicing, please get in touch. On Permanova's inspiration pages, you can read more about the benefits of connected laser processes, how lasers help to improve product quality, and much more. And make sure you take a look at our laser school as well!/strong>
You can reach Permanova's service organisation at:
+46 31-166 177
service@permanova.se
The service line is open Monday to Friday from 08:00 to 17:00.