The PRIMES BeamControlSystem (BCS) enables the automatic measurement of the most important laser beam parameters within industrial laser processing lines. Beam power, as well as focal measurements and power density distributions are measured by the system which is shielded, rendering it completely dust-proof.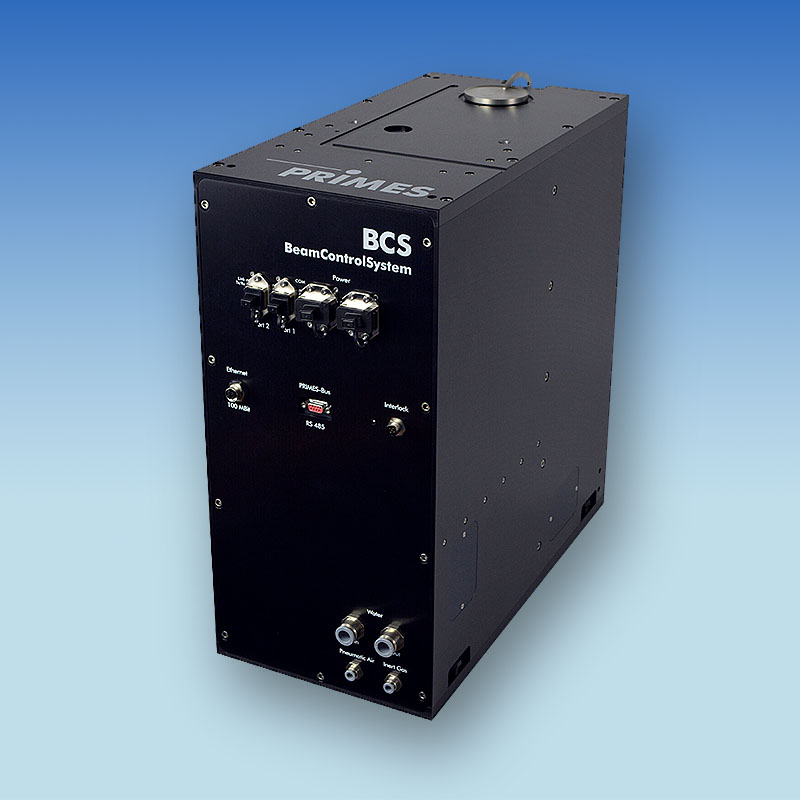 Features
Focal measurement from 0.2 mm to 3 mm
SPS interface for communications with laser or plant controllers
Script-controlled automatic measuring sequences
Monitoring of thresholds for beam parameters
Electro-pneumatic closing device
Control and measurement data management via PC
Fieldbus interface optional for system integration
Overview
This combination device combines the functionality of two different PRIMES products into one compact measuring device. This makes the combination device ideal for permanent integration into a laser material processing plant.
FocusMonitor
CompactPowerMonitor
Both systems communicate with a higher level controller, preferably using the script control within the PRIMES LaserDiagnoseSoftware. This enables the fully automated measurement of power and focal geometry initiated by the laser or plant controller.
The EVALUATION function allows measurement data with specified thresholds to be compared and the appropriate alarm signals to be sent back to the laser or plant controller. Overall, this enables the completely automated monitoring of the beam parameters. The combination device is enclosed and completely dust-proof. The beam entry is sealed in stand-by mode by a pneumatic closing device. This allows the measuring devices to work over the long term in a harsh industrial environment.
Measurements
In order to achieve additional certainties in the context of quality assurance, the essential laser beam parameters are monitored.
Beam Power: typ. ± 3%
Focal Position (z): up to typ. 10% zR
Focus Diameter: typ. ± 5%
Rayleigh Length: typ. ± 5%
Beam Parameter Product: typ. ± 10%
M2: typ. ± 10%
Ellipticity: typ. ± 10%
Astigmatism: typ. ± 10%
Beam Direction (z): typ. ± 0.2°
Models and options
CPM F-1 (1 kW)
The CPM F-1 is a calorimetric power meter for the range of 100 W to 1.4 kW based on the CompactPowerMonitor CPM F-10. The format was significantly reduced in order to enable it to work in very confined laser processing cells.
CPM F-10 (10kW)
Attention is drawn to the CPM F-10, which is distinguished by its large flat absorber and its low weight, as well as the extremely low back reflection. The calorimetric measurement principle allows high-precision measurements independent of the beam diameter and the strike position on the absorber.
CPM F-20 (20kW)
Its "big brother" has also been optimised in weight. The clear aperture of 135mm allows power measurement far behind the focal plane or also of very large raw beam diameters, e.g. behind a telescope.
CPM C-9
For significantly higher power densities, the CPM C-9 with a conical reflector and cylindrical absorber is used. The allowable intensity is up to 10 kW/cm². All models are water-cooled and designed for long-term use – also with deionised water.
Accessories
Adapter for measurement at the fiber (LLK-B, LLK-D, QBH, QD)
Safety, transport and storage cases
External display unit
Various interfaces
Fastening accessories for mounting on the FocusMonitor
Fiber Adapter
The fiber adapter serves to directly couple a fiber to the power meter. This means that laser power measurements are possible even on high power lasers under safe conditions.
Adapters are available for CompactPowerMonitors CPM F-1, CPM F-10, CPM F-20 for a number of common fiber connectors, such as LLK-B and LLK-D and also QBH and QD.